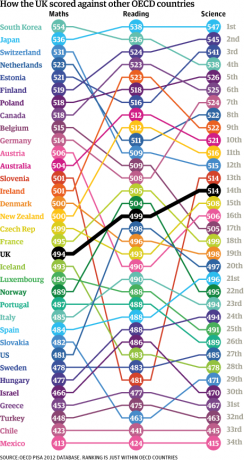 Sydkorea ligger i top av nya Pisa-undersökningen och har de senaste åren som de själva säger satsat på "Building on the successes of its fast-developing ICT sector, Korea is using digital technology to stimulate a creative approach to learning that gives students access to education materials wherever and whenever they want."
[youtube=http://www.youtube.com/watch?v=OJhzdIBUPs0]
I Japan som även de ligger i top säger de "To help students develop critical thinking and problem-solving skills, the government requires students to study topics from different viewpoints and draw links between what they observe."
[youtube=http://www.youtube.com/watch?v=ygInMvH30QU]
Professor of General Pedagogy and Educational Leadership Michael Uljens på Faculty of Education Åbo Akademi University beskriver bra i sin rapport "PISA-resultaten i Finland. Perspektiv på och förklaringar till framgången" syftet med Pisa-studien.
Det är inte heller egalt hur resultaten lanseras i offentligheten. Syftet med lansering av forskningsresultat kan uttryckligen vara att skapa debatt och "röra om" eller så kan syftet vara att erbjuda med förklaringar på redan identifierade problem. Mitt intryck är att PISA rapporten mera syftat till det förra. Det är nämligen så att många länder varit ytterst tillfreds med sin matematikundervisning och elevernas resultat. Utifrån ett kulturellt och nationellt perspektiv har utbildningarna varit funktionella. PISA har därför skapat problem och bidragit med svar som ingen enskild nation efterhört. Vilka resultat som körs ut och hur detta görs är med andra ord politik.
OECD:s strategi: att provocera fram en inom- och mellanstatlig utbildningspolitisk dialog genom att utelämna förklaringar. Det är inte ointressant att undersökningarna genomförs i regi av en internationell organisation vars syfte är att utveckla ekonomiskt samarbete och utveckling (Organisation for Economic Cooperation and Development).
I en global kunskapsekonomi utgör skola och kunskapsproduktion viktiga konkurrensfaktorer. I ett allt mera avreglerat samhälle med ökat individuellt ansvar ligger det således i OECD:s intresse att fostra nationer till konkurrens med varandra på skolans och utbildningens område. Och det ser ut att lyckas.
Läroplanens innehåll korrelerar med PISA-testen 
Vad har man mätt – matematisk problemlösningsförmåga eller läsförståelse?  Ett specifikt drag vid PISA-testen är att de uttryckligen mäter "mathematical literacy" och inte kompetens att genomföra räkneoperationer. Mathematical literacy kan översättas med praktisk matematisk problemlösningskompetens, d.v.s. att lösa matematiska problem i vardagen. Matematiska problem i vardagen är ofta relativt enkla och kan beskrivas verbalt: "Om en snickare skall bygga en låda med måtten XX och YY, hur många meter virke behöver han då?" Detta innebär att en elevs språkliga läsförmåga eller läsfärdighet  kommer att ha konsekvenser för hennes möjlighet att lösa matematiska problem. 
Det är uppenbart att PISA testets sätt att formulera problem är mera typiskt i vissa länders skolsystem, medan andra skolkulturer dominerar andra länder. T.ex. har den finländska matematikundervisningen sedan början av 1980-talet varit klart inriktad på problemlösning och på tillämpning av matematiska färdigheter i autentiska vardagslivssituationer. Det betyder att PISA testets uppbyggnad passar väl in i den läroplan för matematik som tillämpas i Finland (Kupari, 2004). Det viktiga sambandet mellan läroplanens innehåll och testframgång bekräftas också av att finländska barns framgång i TIMMS 1999 för eleverna i åk 7 var mycket sämre i geometri och algebra."
Vad är det Pisa-studien mäter egentligen?
[youtube=http://www.youtube.com/watch?v=q1I9tuScLUA#t=348]
PFL-gänget